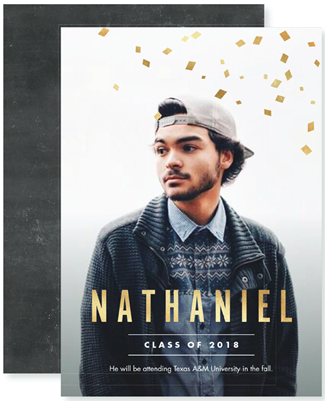 If you like our foil cards, check out this new option!
We've just launched a new feature that let's you add embossed foil to your custom text on our foil cards. The text will be embossed with the same foil color as other areas of the card (gold, silver or rose gold) for a very classy look and beautiful keepsake, as the example on the right shows.
Finding cards with custom foil text
First click the type or category of card you want in the card store. If you click a category that doesn't say, "Foil Cards", click the FOIL cards filter when the category results display (example below).

In the results, cards that offer custom foil text are flagged with a label "+Custom foil text", as shown on right.
When you find a design you want, click it to see more details in an overlay (example below) where you can choose other background colors, foil colors for both your custom text and design elements of the card itself, and corner trim options (You can .any of these settings later, if needed)

Click CREATE NOW to begin creating your card.
Add any photos if available for the design you chose.
For all text areas, enter your text. Optionally, you can change a foil text box to an solid color from the text view, in addition to changing the font, or font size.

If you want to change the foil text color, you can do it in the Layout page (see right), or do it later in the review page.
Complete any changes you want for the back of the card, and the envelope, and click REVIEW & BUY to review your product.
Note: You can only add Custom Foil text to the front of cards, not the back side or the envelope.
On the review screen, check all surfaces and the envelope, and make sure all text is spelled correctly, Other options are shown below.

When you're done reviewing your options, the card and envelope, click ADD TO CART to proceed to check out.
Foil card information
Your choice of gold, silver, or rose gold foil
Ultra-premium 140-lb. card stock
Choose from rounded or square trim options
Free! Return address printing with design
Sets of 20 with envelopes