Some Wall Clock have included incorrect parts list and assembly instructions. The correct parts list and the instructions to assemble your Wall Clock are shown below.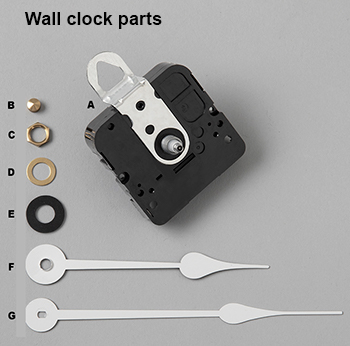 Parts:
A. Movement with hanger (hanger is secured to movement by tape)
B. Brass nut
C. Brass hex nut
D. Brass washer
E. Black foam washer
F. Reversible hour hand (black or white)
G. Reversible minute hand (black or white)
    (Personalized clock face not shown)
Instructions:
Hanger is already placed onto the movement. You may need to remove the tape to re-position it.
Place black foam washer onto the hand shaft
Place the hand shaft of the movement into the rear of the clock dial.
Add the brass washer to the hand shaft and secure with the hex nut.
Choose the hand color you want to display, black or white.
Place the hour hand onto the hand shaft in the 12:00 position.
Add the minute hand to the shaft, paying attention to the shape of the minute movement area of the shaft.
Lastly secure the brass nut to the front.
Insert AA battery (not included).
Use the dial on the back of the movement to set the time.