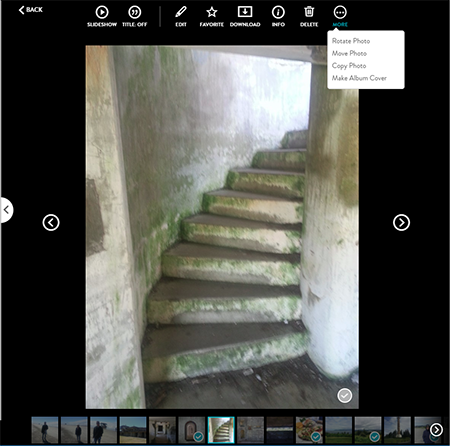 When you open a photo details page there are a number of things you can do by clicking the icons at the top of the page. 
SLIDESHOW starts a slideshow of the whole album
TITLES OFF displays the file name  which you can rename (titles show captions in the slideshow and album screens).
EDIT lets you modify the photo. Learn more
FAVOURITE flags the photo for your Favourites album, a special album where you can access all your favorite photos in one place. Learn more
DOWNLOAD copies a full-size version of the photo to your computer or storage device.
INFO shows an information panel on the right of the photo with data such as date taken, resolution, camera used and camera settings. You can edit the date taken in this view.
DELETE removes the photo from the album. If it is the only copy of the photo it will also be deleted from the account.
MORE gives you the option to rotate, move, copy or make the photo the album cover.
In addition to these options:
You can select the photo by clicking the check mark on the photo to use it for creating a product, or other options in the album view.
Navigate sequentially through your other photos by clicking the arrow icon on the right or left of the display or selecting another photo in the album in the display at the bottom of the screen.
Return to the album view by clicking the back arrow on the upper left.
Related articles