When you upload photos, we create an online album for you that you can access by clicking MY PHOTOS at the top of the page. It's really a folder of photos that you can change to suit your needs, including changing the title, the date, the cover photo, and more. You can sort, or manually drag photos to whatever arrangement you want. The following options are available once you click the album you want to change.
Album options
To change the album name, date or description, simply click the field and type your text (see below).
Simply click one of icons below the description to do the following:

SELECT ALL selects all photos in the album for creating products, sharing, copying, moving or deleting
REARRANGE to manually organize the display of photos within the album: (after clicking the icon, just drag and drop each photo to where you want it and then click DONE).
SLIDESHOW starts a slideshow of the album
SHARE allows you to share the album with others
DELETE ALBUM to remove the album from your account
UPLOAD PHOTOS to add more photos to the album from your MY COMPUTER, FACEBOOK, GOOGLE PHOTOS, INSTAGRAM or FLICKR
Note: To change the background photo that appears behind the text at the top, see the last option listed below in "Photo options within an album".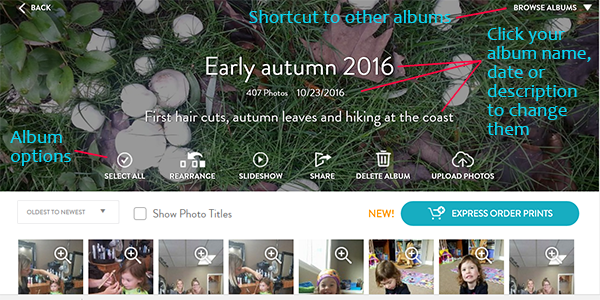 Below the album cover on the left side, you can sort the photo display within the album. Normally the photos display from oldest to newest, but you can choose newest to oldest or, if you rearrange the photos manually, then you will see CUSTOM SORT, as shown above. You can switch between any of the sorting methods without affecting your custom rearrangement of the photos.
Click Show Photo Titles to display the current file name for display in the album or slideshow. Once they appear, just click each one to change the text from the default
You can also quickly order 4x6 prints of the album's photos by clicking the EXPRESS PRINTS button on the right. Learn more about Express Prints.
Photo options within an album

To open a detailed view of a photo, click the + sign at the top right of the photo (see right). The page that opens will allow you to edit the photo, caption the photo, and many other options. Learn more


To select photos for a project, or to share, move, copy. download or delete, click the check mark at the bottom right of each individual photo (see right). The icon will change to blue as shown below.


With selected photos you can select a product to create in the menu on the left or click Options to share, move, copy, download, edit the date or delete the selected photos.  If you choose to copy or move them, you will need to select an existing album or create a new one for the selected photos (see right).


To set a photo as the album cover, mouse over an individual photo, click the gear icon that appears (see below) and then click Make Album Cover. This menu can also be used to rotate, edit, copy, move, download, edit the date or delete a photo, though it will only act on the single photo, unlike the previous option which is for multiple photos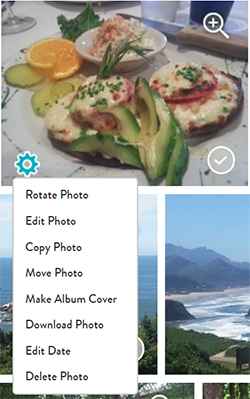 Related articles