The Albums Tab
When you click MY PHOTOS at the top of most pages, you are taken to the ALBUMS view of your photos. There you can view all your albums with your most recent at the top. Each album is the album cover under the year and month the album was uploaded (see below).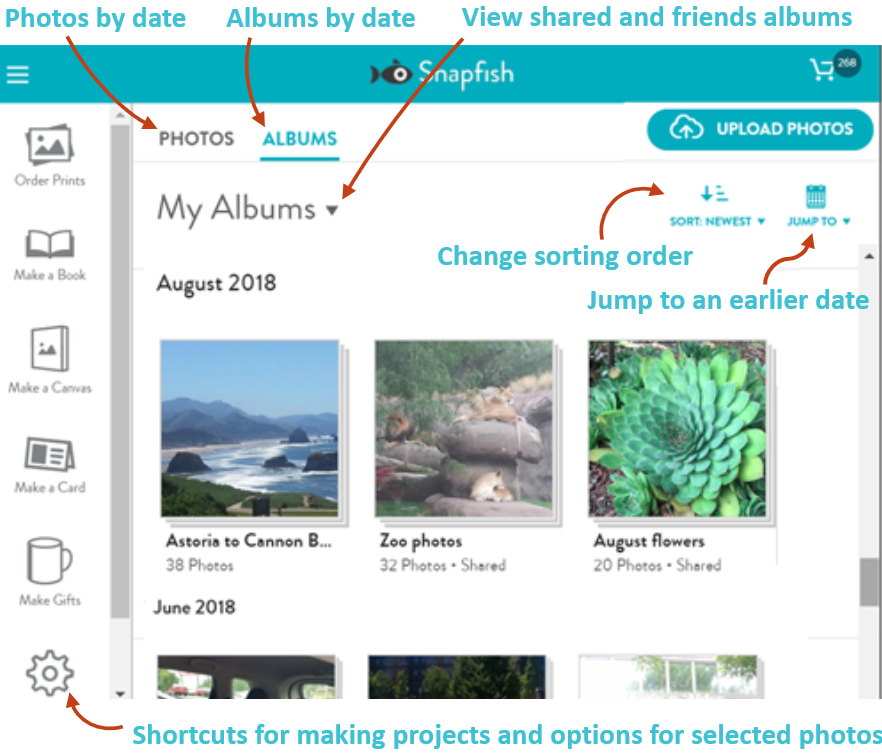 To view all the photos in an album, or modify the album or photos themselves, just click one. Learn more about album options
Click the drop-down menu on right of MY ALBUMS to view Friends albums and albums you have shared
To change the order your albums are displayed, click NEWEST TO OLDEST at the top, which is the default and choose either of the other options: 1) Oldest to newest, or 2) Recently modified.
To find a particular date, click the "Jump to" icon on the upper right and select the month or year your albums were uploaded.
To see options for individual albums, move your cursor over an album to see four icons (see right), which allow you:

To view a slideshow or delete the album
To share the album
To order prints of the whole album
To select all the photos in an album

To get an alternative view of your photos, click the Photos tab above the album display.
The Photos Tab
The Photos tab shows your photos by the date of their upload, but also shows them by creation date for any new copies you've edited and saved on the site. The other major differences include:
Up to 10 photos from each date are shown in the Photos view, whereas only the cover photo shows in the Album view.
If you have more for a given date, click the VIEW ALL icon to see all the photos for that date.
You can view your Farourites by clicking the drop-down menu on right of My Photos
You can also select all of the photos for a particular date to share, move, copy, download, edit the date or delete the photos, by clicking SELECT ALL above the photos, and then clicking Options on the left.

If you hover your mouse over an individual photo, icons appear for many other options

Notes:
If a photo is narrow, the star icon does not appear, but you can use the gear icon, where a "Mark as Favourite" option shows.
The Jump to and sorting options in the Photos view work like they do in the Album view.

 

 

 

 

 

 
Related articles