Does editing a photo in a product builder change the photo in my library?
No. Any edits you make to a photo within a product builder does not affect the original photo in your library.
What's a photo box?
It's like a placeholder for your photos. You'll see them in all our product builders except the standard prints builder. Don't worry about blank photo boxes; they won't print. Clicking the box will show the editing options, but most will not be active until a photo is added.
| | |
| --- | --- |
| Empty photo box before a photo is added | Empty photo box after it is clicked |
What and where are photo handles? I don't see them.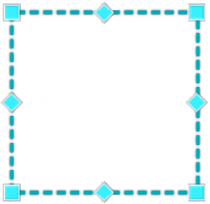 When you click on a photo in your project, you'll see a dotted line with circles at the corner points and diamonds at the center points (see right). These points are the photo handles and will turn blue when you mouse over them. Just click on a photo to see them. If they don't appear immediately, move the photo around. Please note that photo handles are not available in the standard prints builder since print sizes are fixed.
How do I remove a photo from the page, or project?
To delete a photo from a product page, click the photo and then select the trash icon. Don't worry, the photo will remain in your library as well in the project's photo well.
To delete a photo completely from the project, open the PHOTOS menu and then click or tap the trash can icon on the photo. Selected photos will be deleted from your project, but not your library.
What does the dotted line mean in my project space mean?
We call this the safe area and it refers to the printable space. The dotted lines appear if you place anything to close to the edge, so for best results we recommend you keep your photos, embellishments and everything else within the dotted lines. You will also see a warning above the workspace if you place anything too close to the edge (see below).

It says my photo has low resolution. How do I fix it?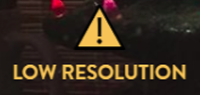 If you see a warning like the one on the right, it means your photo has a resolution too low for the size you are trying to print, either in a product or our prints builder.
To make sure your photos print beautifully, we recommend following these steps::
In the standard prints builder, either zoom out on the photo, or choose a smaller print size.
In all other product builders, shrink your photo by the corner handles or scale it down with the slide tool. Or you can choose a new layout that uses smaller photos.