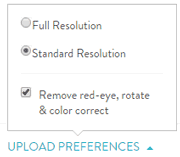 You have the option to automatically edit your photos at the time you upload them. . Just click UPLOAD PREFERENCES in the bottom left corner of the ADD PHOTOS panel, and make your selections (see right). Here's what you can do:
Remove red eye, rotate, and correct color
Adjust photo resolution
For the majority of our products, we recommend using standard resolution. If you want to make large prints (posters), canvases, and blankets, we suggest choosing full resolution.