Mail order deliveries
Please see auspost.com.au/about-us/news-media/important-updates/coronavirus for the latest information about delivery delays.
SHIPPING METHOD >

STANDARD MAIL

EXPRESS POST

Estimated Delivery

Up to 12 business days*
4 to make + 3-8 to deliver your items**

Up to 7 business days*
4 to make + 2-3 to deliver your items**

Tracking Information

Available for some orders***

Full Tracking

*Estimated Delivery Dates
Delivery dates are a estimates only, not a guarantee, and reflect the total number of business days we estimate to make then deliver your order. The items you create are one of a kind, not something we pull off a shelf, so please allow us up to 4 business days to make them before shipping your order. Production delays may occur, and delivery may take longer, especially during the holiday season.

** Delivery days
The above production and delivery time table is for general guidance only. Delivery days varies depending on your postal code. Remote areas delivery may take longer delivery days than what's shown in the above table . Estimated delivery date for your postal code is shown in Cart page per a shipping method. Please make sure to confirm the estimated delivery date before ordering.

*** Tracking Information for Standard Mail
Tracking might not be available for small size order, such as prints, small gifts, or small size photo book.
Pick Up in Store
For the most accurate estimate of Pick Up in store times, please refer to the estimated pick up time, which appears when you select a store during check out (see screen below).
Please visit your selected Kmart store after the estimated pickup date.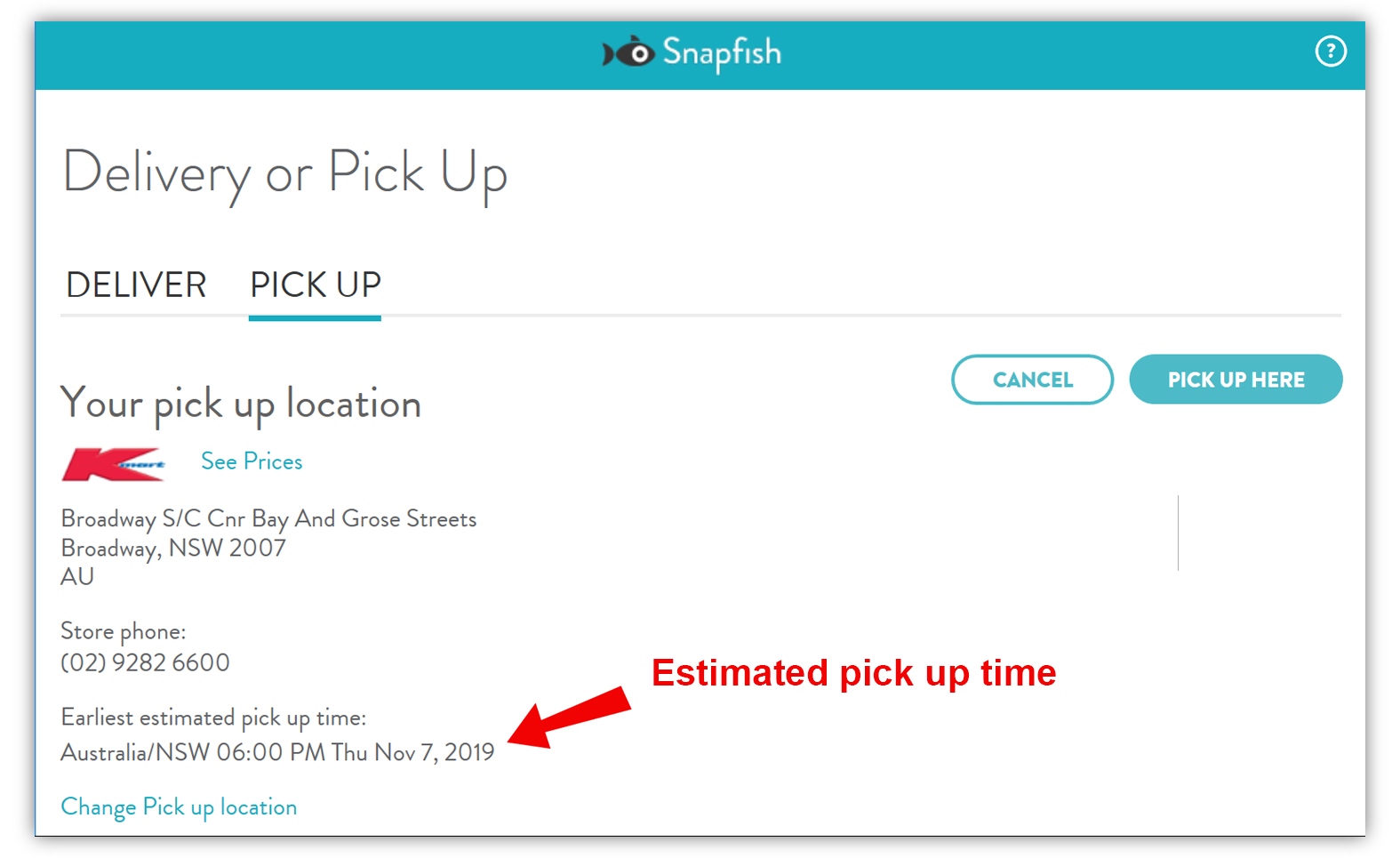 Missed Deliveries
Snapfish order deliveries will be made via a national courier network, Australia Post eParcel service, or regular mail. If you are not home at the time of delivery, your order may be taken back to a courier's local depot or post office. In this case, a driver will leave a calling card, which has all relevant contact details, at the delivery address so that you can arrange a re-delivery with them.
Deliveries to Office/University
If you are shipping an order to an office or university address, please make sure to include the name your business in the address, otherwise your order might be recorded under unknown address and returned to the sender.
No PO Box/Private Locker Deliveries
We are unable to ship orders for PO Box and Private Locker deliveries.
International Deliveries
International delivery service is currently not available in Australia. However, you can log into the Snapfish US site at www.snapfish.com, create a new project, and place an order for International delivery if you want to ship outside AU.