Autofill is the fastest and easiest way to place photos in a photo book or calendar. When you have selected your photos for your project, you will be asked you if you want to Autofill. Simply select "Autofill photos" to let the builder place your selected photos in matter of seconds (see below). You can always make changes to your project manually.
Autofill screen for calendars:

Autofill screen for photo books: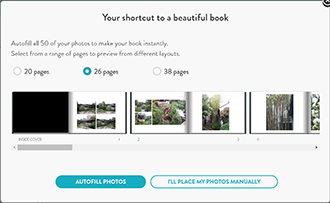 Note: When you are creating a book, you will also see several options on the Autofill screen for the number of pages in your book, as well as a preview for the number of pages you select.

If you decline to use Autofill intially, and begin placing your photos manually, you can always click Autofill in the Photos menu on the left of the screen (see below). And if you don't like the arrangement, just click Undo.