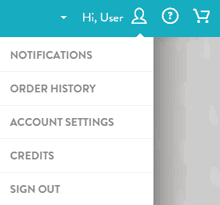 We've made it easier to keep track of everything! Just click the profile icon on the top right to choose the area you want (see right). When your account pages you can make your changes and view information via tabs across the top of the page (see below).
Note: If you haven't signed up yet, please Create an account to see the profile icon and access your account settings and information.
The 5 tabs are described below:
ACCOUNT SETTINGS
Change your name, the email address for your account, or password at the top of the page. At the bottom are options for your notification settings. For more information, see Change your account or notification settings
ORDER HISTORY
• Look up past orders
• Check the status or details of any order
• Cancel an order (within 1 hour after the order has been placed). Learn more

PAYMENT/BILLING
Use this tab to enter or update your payment information via the "Edit payment info" link. Enter your information, then click or tap SAVE. It is optional whether you choose to keep your billing information in your account or not. Entering it here makes ordering less involved, because it avoids you having to enter the information each time you place an order.
Note: Currently you cannot delete a saved credit card whether entered in the Payment/Billing section, or if you saved it while placing an order. Please contact customer service at one of the links below if you want your credit card information removed.
CREDITS
See your credits and start making any products you have available by clicking Make this product on the right. Credits are applied automatically at check out.
NOTIFICATIONS
Here you can subcribe or unsubscribe to promotions about deals, discounts and other special offers (see Change your password, email address, or notification settings).