The higher the resolution, the better photos will print.

We'll help put your best print forward with some hints:
Large size products such as Posters and Canvases need higher resolution photos than small projects.
Choose Full Resolution under Image Size in the uploader for large products (see right).

Facebook & Instagram photos are much smaller than photos from most digital cameras.
The resolution are usually too low for large projects, but are perfectly fine for small products like 4 x 6" prints, mugs, or smaller photo spaces in photo books or large print collages.

Snapping shots with a digital camera?
You can manually adjust the photo resolution of your camera, as you go. Select the highest resolution possible if you are interested in a large format print or poster.

We always check the photo resolution before you order a product.
If we think the photo isn't large enough to meet the Snapfish standard, you'll see a warning telling you that the image resolution is too low for the size of the photo space you are adding the image to, and the printed image may appear blurry or pixelated.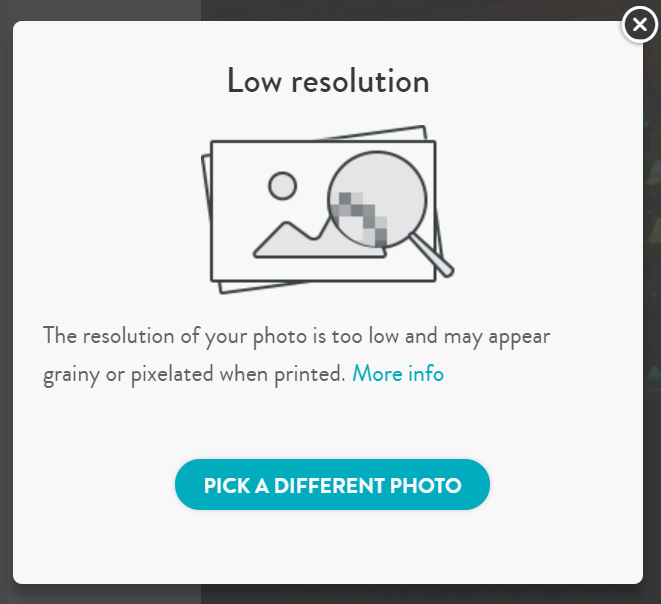 You can click the button to choose a different photo, or you can click the X in the upper right corner to ignore the warning.

Important: If you ignore the initial warning, a yellow icon and message appears on the image (like below), and the image will appear grainy in your delivered product unless you correct the problem. To fix the problem:
Select a different Layout that contains smaller photo spaces, and drag the photo to a smaller space.

Reduce the size of the particular photo within the project by selecting the photo and dragging a corner inward toward the center. At a certain size the warning will go away.

Many of your smaller images may not be good for large projects, but they can still be used in a smaller form, especially for collages.