Great news! You can now upload your photos from your computer or mobile device, or from your Instagram, Facebook & Google accounts. Plus, you can upload multiple photos at once.


How do I add photos and albums to my account?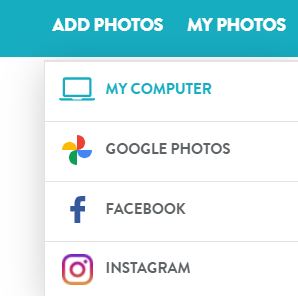 Tap or click ADD PHOTOS at the top of most pages and select the source of your photos from the menu. For the INSTAGRAM, FACEBOOK and GOOGLE options, you will need to log into your account to access and import your photos.
Optional: Create a new album, or select an existing one for your photos (not available for Google imports yet: photos are saved as a new album named "Google + today's date"):


NEW ALBUM (you can add a name for the album to the right of this option.
EXISTING ALBUM (if you choose this option, you will need to select one of your current albums from the menu provided.

Optional: Click Upload Preferences to choose standard or full photo resolution (recommended for large prints, like posters).
Click SELECT PHOTOS, and browse to the folder where your photos are stored. Select the photos to upload and click Open.
Tip: Hold down the mouse button and drag over the photos you want to select or hold down the control key(command key on Macs) and click on each photo. Then click Open.
Tap or click Add more photos or Start upload.
The blue progress bar at the top and the number of photos uploaded so far in the upper right shows your progress. Once completed a screen will display, "Upload complete" as shown below with options to View, Upload more, or Order prints.


Your photos are now in your library, ready for the making.
If you're on a phone or tablet:
You can also upload photos from your mobile device, or from your Facebook, Instagram or Google Photos accounts using one of our Snapfish mobile apps.
You can download a Snapfish app for your smartphone or tablet from one of these links:
Snapfish Apps for AU
Snapfish Apps for IE
Snapfish Apps for NZ
Snapfish Apps for UK
Snapfish Apps for US


More information you might find helpful...
Can I upload in any browser?
We support Internet Explorer 10, Safari 6, Firefox 12, Chrome 20 and up.

What is the difference between Standard and Full photo resolution when uploading?
When you choose standard resolution, we remove unnecessary stuff in the file to slightly compress the uploaded photo. This reduces the file size and helps us offer you unlimited photo storage.
This helps us offer you unlimited photo storage, which we know you love.
Full Resolution adds photos without applying compression, so it's better for larger posters, canvases, panels, and blankets.
Why don't photos appear in the order I uploaded them?
We upload three images at once, so we can add them to your library faster. But you can change the display settings in your library to view photos by date uploaded or date taken.

You can also change the order of your photos within an album by clicking the REARRANGE icon under the album name and dragging and dropping photos to the desired position. Click DONE when ready and your photos will remain in this order.
Are there any limitations on images I can upload to Snapfish?
Yes. Snapfish supports almost all JPG/JPEG and PNG images produced by modern cameras and smartphones. However, we don't support the following file types and sizes:
Any image file type other than those listed above (we cannot upload GIF, BMP, TIFF, PSD, AI, PDF, WEBP, or any other image file types)
Images larger than 150MB
Images larger than 100 megapixel (MP)
Video and audio files
Not all JPG/JPEG files are supported. Currently, we only support 8-bit RGB and sRGB color space. This excludes certain JPG file types such as JPEG2000 (or JP2). If any of your images don't fit our standards, you'll be alerted.
In addition, there is currently a 10GB limit per upload. That is, the total size of all photos in a single uploading session cannot exceed 10GB.
Can I still email my photos to my account?
No, sorry, this feature is not available