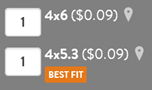 Our Best Fit print size may appear after you've selected your prints and are viewing the individual prints, sizes and quantities. Below one of the print sizes selected, you may see a flag like the one on the right.
For most rectangular photos the Best Fit size is a True Digital shape (aspect ratio) which is tailored for the shape of photos from most digital cameras. The format produces a 4" x 5.3" print, providing the full photo, the way you captured it with your camera, and you never have to worry about your photos being cropped during the printing process, which happens for 4" x 6" prints, and other print sizes.
Note: For square photos the Best Fit size shown is 4" x 4".
Why get True Digital prints instead of 4" x 6"?
If you've ever experienced unwanted cropping when you order 4" x 6" prints, then True Digital prints are for you! With True Digital prints, your digital camera photos are printed in their entirety. This will avoid heads or other important details of your photo from being cut off
Most digital cameras capture images in a 3:4 aspect ratio, unlike traditional 35mm film, which captures images in a 2:3 aspect ratio which was perfect for 4" x 6" prints, . To fit a 3:4 shape into a standard 4" x 6" print, 11% of the digital camera image ends up being cropped from the photo (see below). This can result in subjects close to your photo's edges being cut off (the top and bottom of a landscape-shaped photo, or from the right and left sides of a portrait-shaped photo).

Like all Snapfish photos, True Digital prints are processed on professional-quality paper and you can choose matte or glossy finish. The price for True Digital prints is the same as our 4" x 6" print pricing.
See Changing quantities and sizes of prints in your order, which explains how to order your photos with minimal cropping