You can zoom in and pan to a specific area of a photo an album to create a copy. To do this:
First, go to MY PHOTOS and click the photo you want to edit.
Then click the pencil icon to edit the photo.
When the edit panel opens, click the CROP tab and choose the orientation and size of the photo, if desired.
Click the + button to zoom into the photo, or - button to zoom out, if you have zoomed in too much (see below).
Once you have zoomed, grab the photo and drag it to the area you want to show.
As with any edits in the library, you have the option to save your changes by clicking DONE EDITING, or you can select "Undo edits" to revert to your original photo. To exit the edit panel without saving changes to your photo, click CANCEL.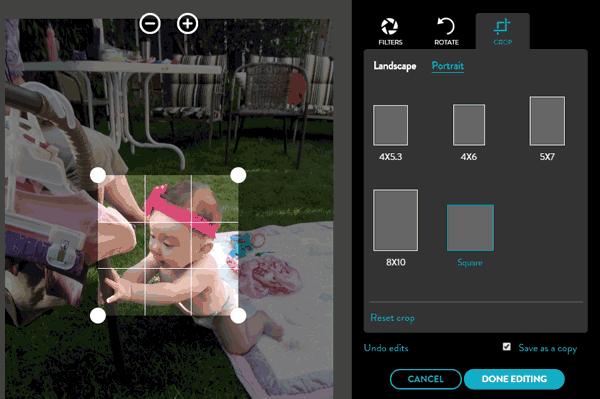 Note: Whenever you zoom into a photo and crop, the copy you make will be at a lower resolution than the original photo. This is fine for many products, but it may not be suitable for large projects like blankets, posters, or canvases.