Order status details are displayed in your account on both your home page and Order History page. Details follow:


Recent Orders on your home page
Your most recent 5 orders now appear at the top of your home page in the "Recent Orders" section (see below). Click on the link to the right of any order to view the Order Details page for an order. The order details page includes the order date, the shipping method you chose, the estimated delivery date, total and itemized costs and your Order ID.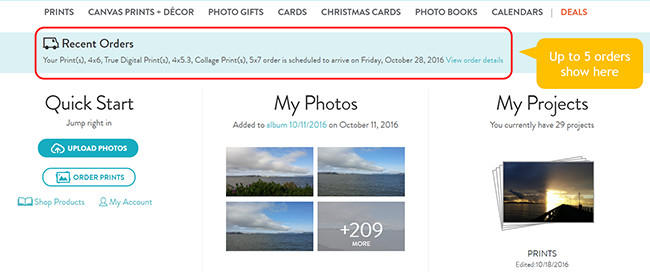 Note: The Recent Order section only appears for active orders, and is hidden after your order has been delivered or picked up at a store.
Order History page
You can also view recent (and older) orders on the "Order History" page by clicking your profile icon in the top right corner of most pages, and choosing ORDER HISTORY (see right). From there you can view individual order details (see example below).

Important: If your order is late please contact us at the links on the right (or bottom of the screen on phones) and please provide your Order ID. It will help us to assist with your inquiry quickly.


Notes:
A "Cancel order" link appears on the right of the order details column for only an hour after submitting an order. Learn more about cancelling an order.
Tracking information is not available in all countries and in countries that do offer tracking, the link will not be visible until your order is shipped.