The shape of digital photo files do not match the shape of many common print sizes.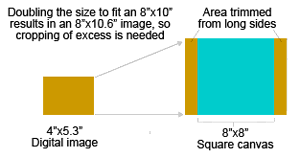 For example, the shape of many digital images is like the 4"x5.3" rectangle you get with True Digital prints, so when enlarged to fit a square canvas, the extra length must be trimmed or cropped (see right).
This is easy to visualize with a square enlargement, but not obvious with other rectangular shapes like 5"x7" or 8"x10" because the rectangular shapes are very similar. For example, to fill an 8"x10" print, the image must be doubled in size, making it 8"x10.6". So the extra 0.6" in length must be trimmed to fit the 8"x10" space, as illustrated below.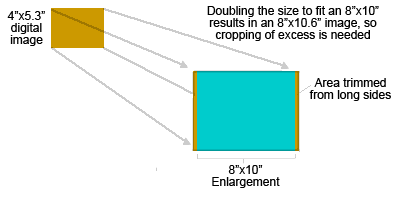 When the shape of your digital photo file does not match the shape of your print size, some of your image will "fall off" the edges of the paper. Unless you manually crop the image to fit the print size, our automated system will do the cropping, and it will always crop "to the center", losing some of the image on the 2 "longer" sides.