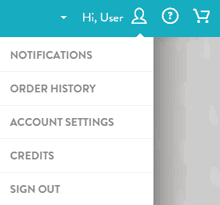 Credits for products are occasionally offered to customers and they are shown in your account pages. These may be for a specific product, or a type of product, or vouchers for any product you choose.
To view and use any credits you may have:
Click the profile icon at the top right of the home page, and select CREDITS.

The credits page shows your avaiable credits with a link on the right of each credit to start making the product (see below).

Click Make this product to go to the store pages and navigate to the product description page to start making your product.

Once you've created the product (or print order) and added it to your cart, you will see that your discount for that credit has beeen applied automatically at the bottom of Your Cart page (see below).